How interesting is your job? Do you get to express yourself? Being 'corporate' is all about conveying your message in the subtlest way possible.
Wonder what a pocket square has to do with any of that? Well, consider it your way of making your point clear, not only to your boss but also across your office. Everybody on white-collar planet dresses up to confer to gazillion dress codes – blues or greys, stripes or checks or the same old suit. So, where's your chance to make a mark and express who you truly are?
A stand-out presence, a touch of personality and a 'complete' look – that's all it takes, isn't it? With a pocket square, all these can be accomplished with ease.
Now, how do you choose the right one to seal the deal? Read on to find out –
WAISTCOATS
Brightly-coloured waistcoats: You can always choose a brightly-coloured waistcoat for occasions such as receptions etc. As far as pocket squares are concerned, go for colours that are contrast to that of the waistcoat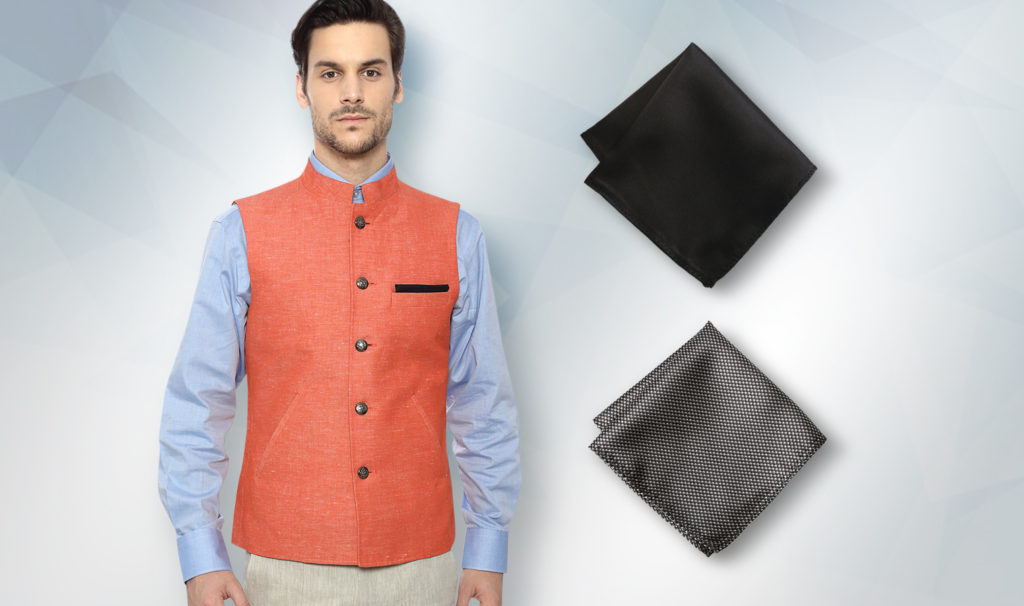 Printed waistcoats: Making your presence felt at a party is all about looking effortlessly stylish. A printed waistcoat is a great place to start, followed by choosing a pocket square in a colour which is noticeable even from distant.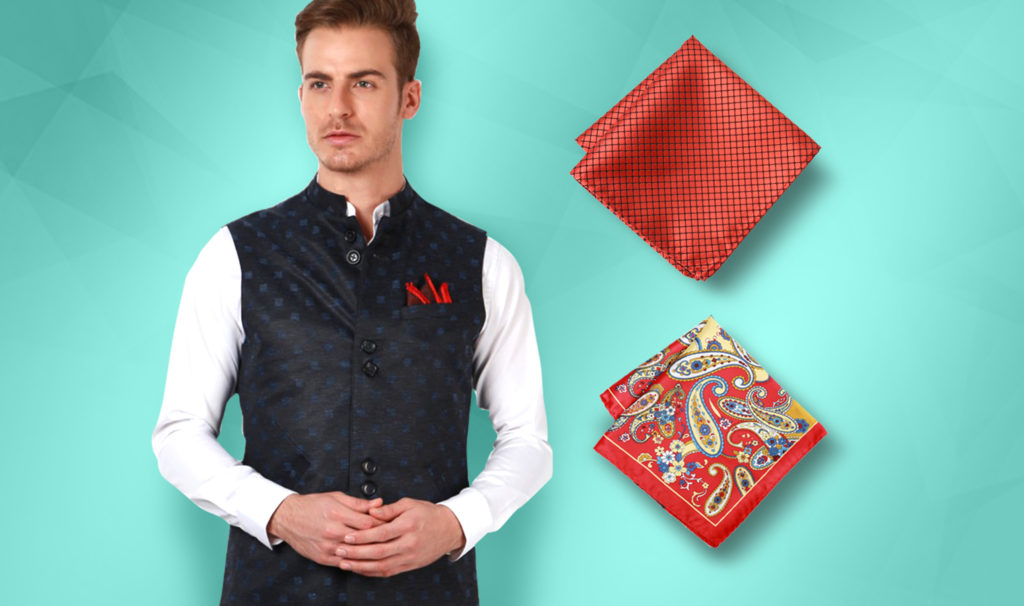 Textured waistcoats: To take a subtler approach to corporate dressing, you can wear a light-coloured waistcoat with a darker-toned pocket square. This combo is ideal for your first conclave where you need to make acquaintances that matter.

BLAZERS
Pastel-coloured blazers: Pastel colours such as beige will certainly pair well with black pocket squares- both solid and printed. This combo will surely help you to make an impact at your first client meeting.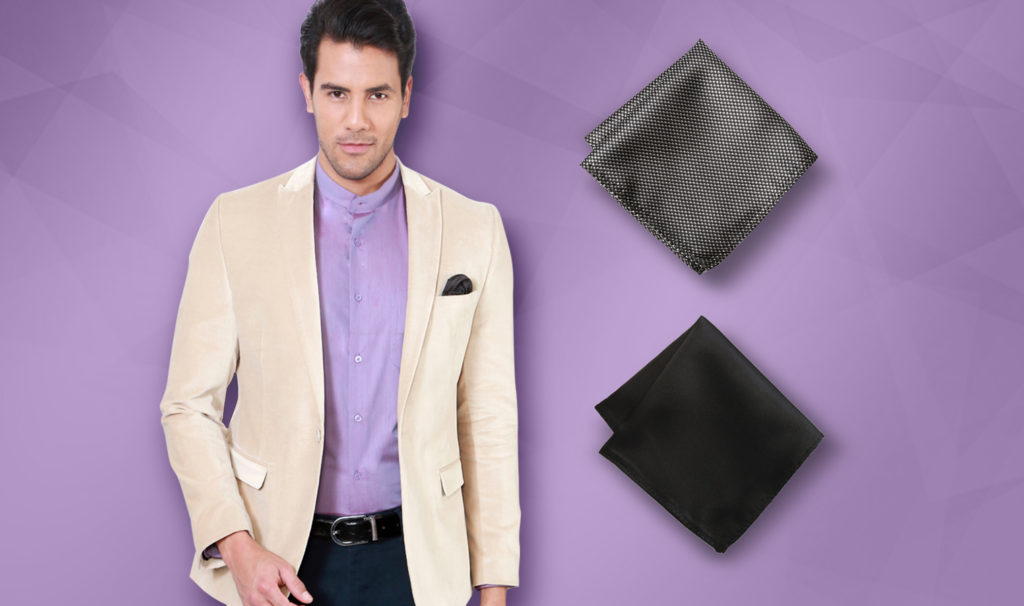 Dark-coloured blazers: A party at a club always calls for a blazer. It's one of those occasions where looking regal is essential. Wearing a tan blazer and a red bow-tie with a pocket square that contrasts the tie is a smart move. This combo will accentuate your presence since complementary colours always do a good job.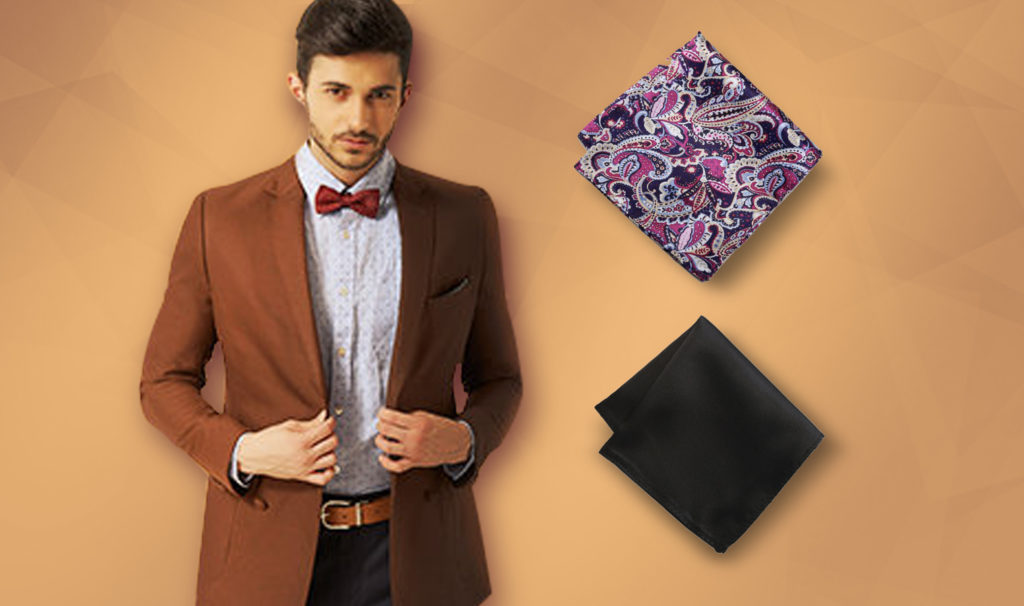 SUITS
Dark-coloured two-piece suits (party): When you're wearing a black two-piece suit for a party, don't forget to add a pocket square with complementary or contrast colours. With this look, an impressive presence can be asserted in style.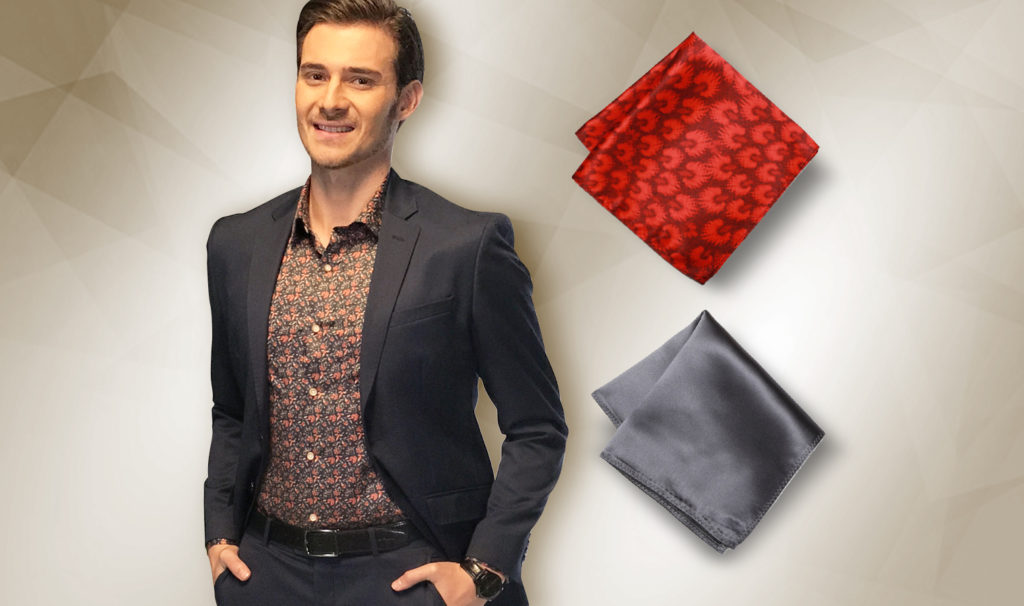 Light-coloured two-piece suits (formal): When you're wearing a light-coloured two-piece suit, choose a pocket square which enhances the colour of your tie. This ensures that your ensemble has a balanced mix of colours. Ideal for your first boardroom meeting.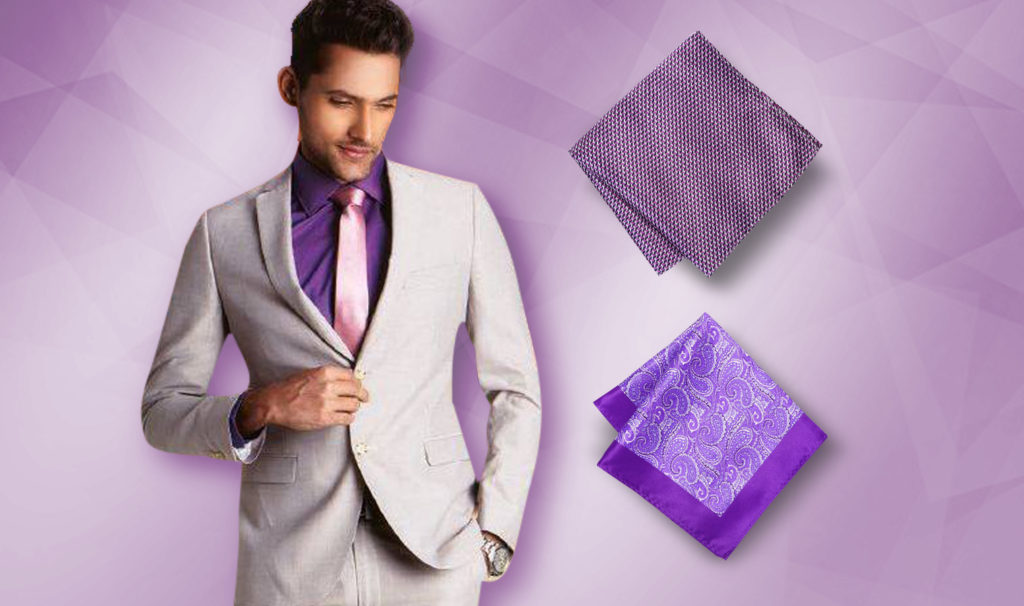 You have decided to go with a pocket square and you have picked the right one for the occasion. Now, how do you wear one? Sounds simple, but the essence lies in the fold.
Here are three ways to get it right –

Presidential/ classic fold – This is the simplest and the classiest of all the pocket squares. Leaving only a smidgen of the pocket square to be visible, this one exemplifies understated sophistication.
Puff fold –The puff fold looks deceptively simple but it's not all about just stuffing it into your breast pocket. The idea is to place it in a way that makes it look effortless but stylish.
One-corner fold – Why go subtle when you can go big? Unlike the classic fold that hides most of the pocket square, this one gives you an opportunity to 'explicitly' showcase your sartorial flair.
Learn more about styling shirts and ties for a well-tied look.
Image sources:  www.peterengland.com, www.pinterest.com, PE Facebook