It's fairly established that a blazer is one of those perennial key essentials in a gentleman's wardrobe. It is also one of the most overlooked! The challenge intensifies if blazers are not part of someone's everyday wear.
The right blazer can lend an instantaneous finish to your look, whether you are dressing up or dressing down. As with anything else, building a wardrobe around it, requires you to start with the basics.
Here are the two basics in terms of colour, when creating a comprehensive blazer collection–
A. The Classic Black
A black blazer is a classic that will never go out of style. It is also an easy pick for a variety of occasions – from a casual weekend to critical business presentations. A single black blazer can add class to your whole look, whether you wear it with a tee or a shirt, teamed with a pair of jeans or trousers, respectively.
1. The perfect office look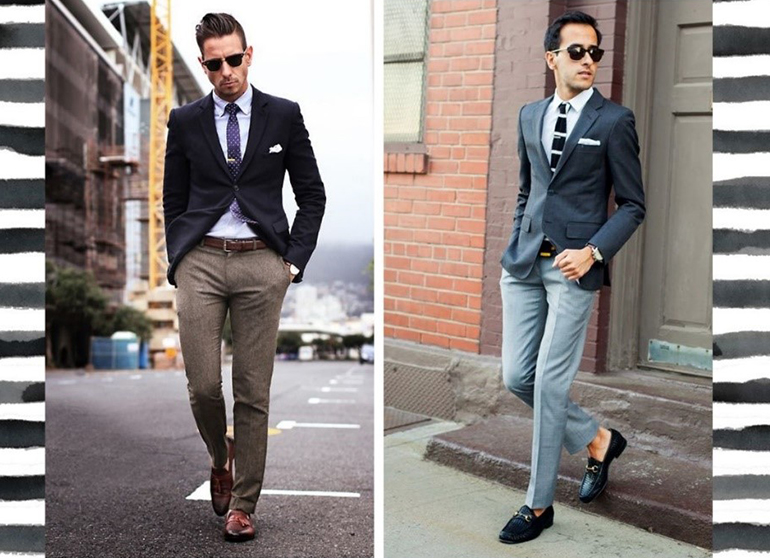 When the goal is to make an impression at work, adding a simple black blazer to your ensemble will do the trick. A light-hued shirt (check out "top 5 must have shirts for men") teamed with khaki or grey trousers and a printed tie is a corporate favourite that works splendidly with a black blazer. Throw in matching oxfords and a belt for that dapper finish.
2. Convincing your clients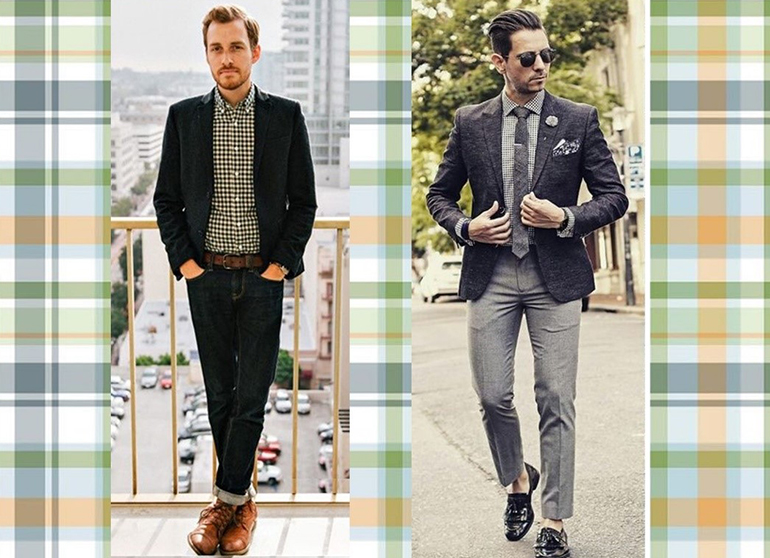 Out-of-the-office meetings can run long, and you may need to travel a lot, that's when comfort becomes the key to dressing. Casual check shirts in cotton or super-soft Tencel (check out "know your checks") are great options in such cases. Throw on a black blazer and style them with a pair of denims and leather loafers for an easy business-casual look.
3. Corporate events/ occasions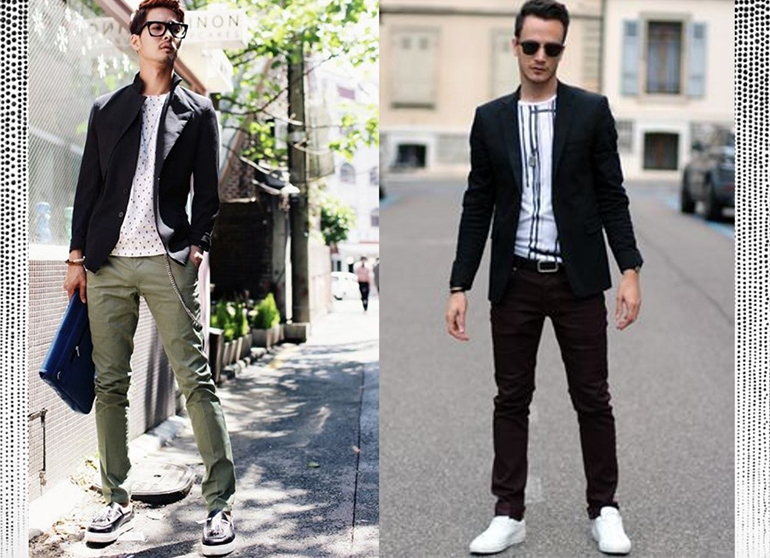 Those mid-week business lunches and corporate events may call for a semi-formal look. Such styling gets tricky when you need to preserve the essence of the formal setting, but with a smart casual twist. This is easy to achieve with a black blazer layered on a minimal printed tee. Opt for turtlenecks in winter for an effortless look. (check "smart ways to layer a polo T-shirt). Finish the ensemble with a pair of sneakers to go along with neutral-coloured chinos or dark denims.
B. Fifty? No, All Shades Of Grey
Grey is a versatile colour option for both formal and casual settings. Instances where the black blazer exudes overly formal vibes, the grey blazer comes as the perfect substitute.
Mr. grey at the office

A stylish grey blazer can give you a distinct dapper look at work.  Grey pairs splendidly with black, navy or even brown trousers. Finish the look with a matching belt and Oxfords. Adding a printed or a gingham style tie will mark your presence over your colleagues.

Up your onsite meeting style

What white is to black, is what blue is to grey! A classy textured blue shirt will look great with a grey blazer for those client meetings. Throw in a pair of jeans or dark trousers to add more substance to the look. A Brown belt along with Derbies (check out "top 5 must-have shoes for men") will tie the whole look together to leave an impression at those corporate conclaves.

Mix and match with grey

You can pair a check shirt or a striped tee with a grey blazer for an easy semi-formal look. Team it with dark jeans and chinos to keep the look going on a casual note. Take the style up a notch by adding a printed pocket square to your ensemble.

Pro tips –

Fit is as crucial in styling, as are those documents for your critical business meetings. Look for one that fits you just right, and everything else falls into place.
Be mindful of shiny textures – gloss is rarely a pal at work.

Both black and grey blazers can contribute to a versatile and timeless look. Easy to pick and effortless in style, these are ideal first blazers to invest in. (check out "how to select your first blazer?").

How would you style these 2 classics in your own special way? Tell us in the comments below!