How many times have you made impromptu plans with your friends after work? Or headed out for a long ride with your buddies after a day packed with back to back meetings? If you're nodding while reading this, we bet you've cringed at the fact that you're so formally dressed for an evening out while the appropriate dress code was something casual. Now, we can't ask your friends to plan well in advance for a boys' night out, but we can surely prepare you for one! Trust Peter England to come up with a solution for all your wardrobe worries, and the Blazerider -Reversible Blazer by them is exactly what your closet needs.
Practical and stylish
High on both practicality and style, the Blazerider will soon become your go-to layering option both for a ong day at work as well as for an night out with friends and family. Trust us when we say that reversible jackets are having a major fashion moment! Not only are they a major runway success but have spilled over to becoming street style's favourite bib and tucker. And what better brand than Peter England to make the right impression. Trust menswear to take functionality from the runway to the high streets.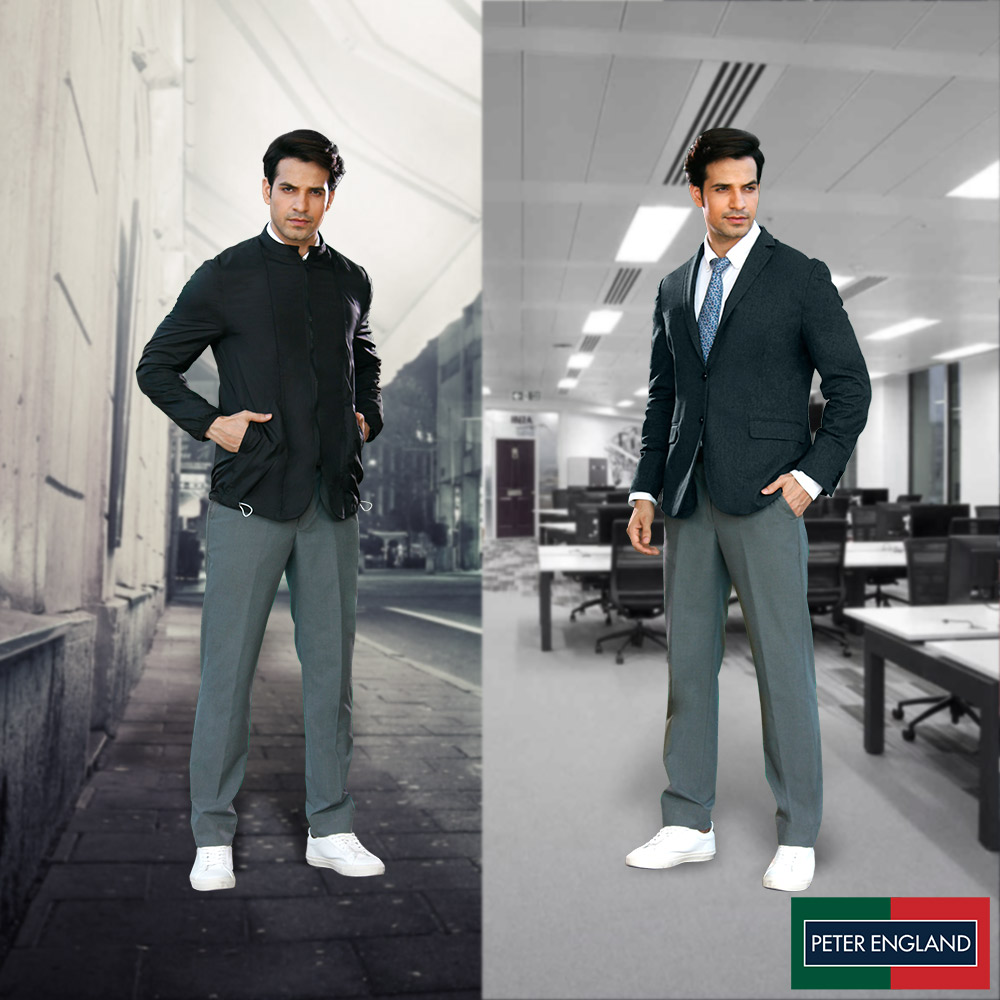 Intelligent tailoring elements
Peter England's Blazerider – Reversible Blazer promises to be all that and much more. Catering to the multi-faceted youth who wants to go directly from desk to dinner, this blazer cum jacket is their one-stop shop. You'll be pleasantly surprised how this formal blazer during the day seamlessly transforms into a casual riding jacket by the evening. This blazer-wonder not only uses fine fabric but also comes with a host of intelligent tailoring elements to satisfy the customer's needs. With a smartphone pocket, wrinkle-free fabric, button safe technology and a tekfit waistband, the Blazerider will soon become your wardrobe staple.
Style tips
Wear the Blazerider to work with a pair of slim-fit chinos, a crisp shirt and brogues. Turn it around and you're party ready! You can also wear the biker jacket look complete with distressed jeans and a Polo T-shirt. This or that, the Blazerider never disappoints!
So what are you waiting for? Stay at the top of your fashion game with the Peter England's innovative Blazerider – Reversible Blazer. Tell us how this blazer-jacket has made your life easier in the comments below!